Wholesale
Fresh Pasta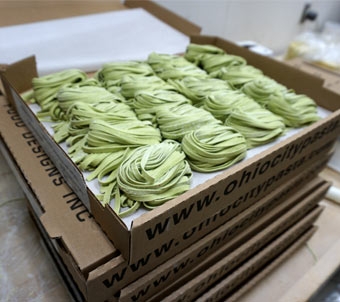 The Pastas
The following pastas come in 5 lb increments, one cut, one flavor per 5 lb box.
Angelhair
Spaghetti
Linguini
Fettuccini
Pappardelle
Download, view or print our current Ohio City Pasta Wholesale Brochure. Contact us any time if you have any questions on the products that we offer! 
216.696.3388  (OCP HQ)
216.241.5444 (Market Phone)
Download the Ohio City Pasta Wholesale Brochure.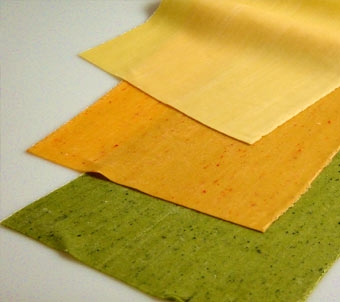 Sheet Pasta
Sheet Pasta is available in any flavor and comes in 10 lb increments.
Custom Pasta
Our custom pasta* is a great way to create a signature dish for your menu. We simply prepare your custom flavored pasta and cut it to fit your specifications. Custom flavored ravioli filling can be made to your recipe or you can supply the filling and we will fill the pasta of your choice.
* Contact Ohio City Pasta for custom pasta lead times and minimum order requirements.
Frozen Foods Division
Ravioli
Ravioli are part of Ohio City Pasta's frozen pasta offerings. They are traditional square shaped ravioli. Our ravioli wholesale are packed:
108 ct and are approximately 2 in square. A case weighs 6.75 lbs.
Gnocchi
Potato gnocchi is another product in the frozen foods line. The classic potato and flour dumpling are individually frozen packed in 10 lb cases. Listed are some of the more popular gnocchi. All of our gnocchi are made without egg except for ricotta 
Potato
Sweet Potato
Spinach
Sundried Tomato
Roasted Garlic and Parsley
Butternut Squash
Sweet Pea
Pumpkin Sage
Ricotta